The Alps in my Backpack / 2016
A picnic tablecloth, a tarp, a parasol or umbrella? The pedagogical tool "The Alps in my backpack " is certainly multifunctional, but it is first and foremost a cross-country teaching tool that can be kept in a backpack to be used for animations on the field in connection with the Alps, mountain heritage and the Alpine protected areas! Measuring 240 x 150 cm and printed on a resistant fabric, it presents the map of the Alps and their main protected areas: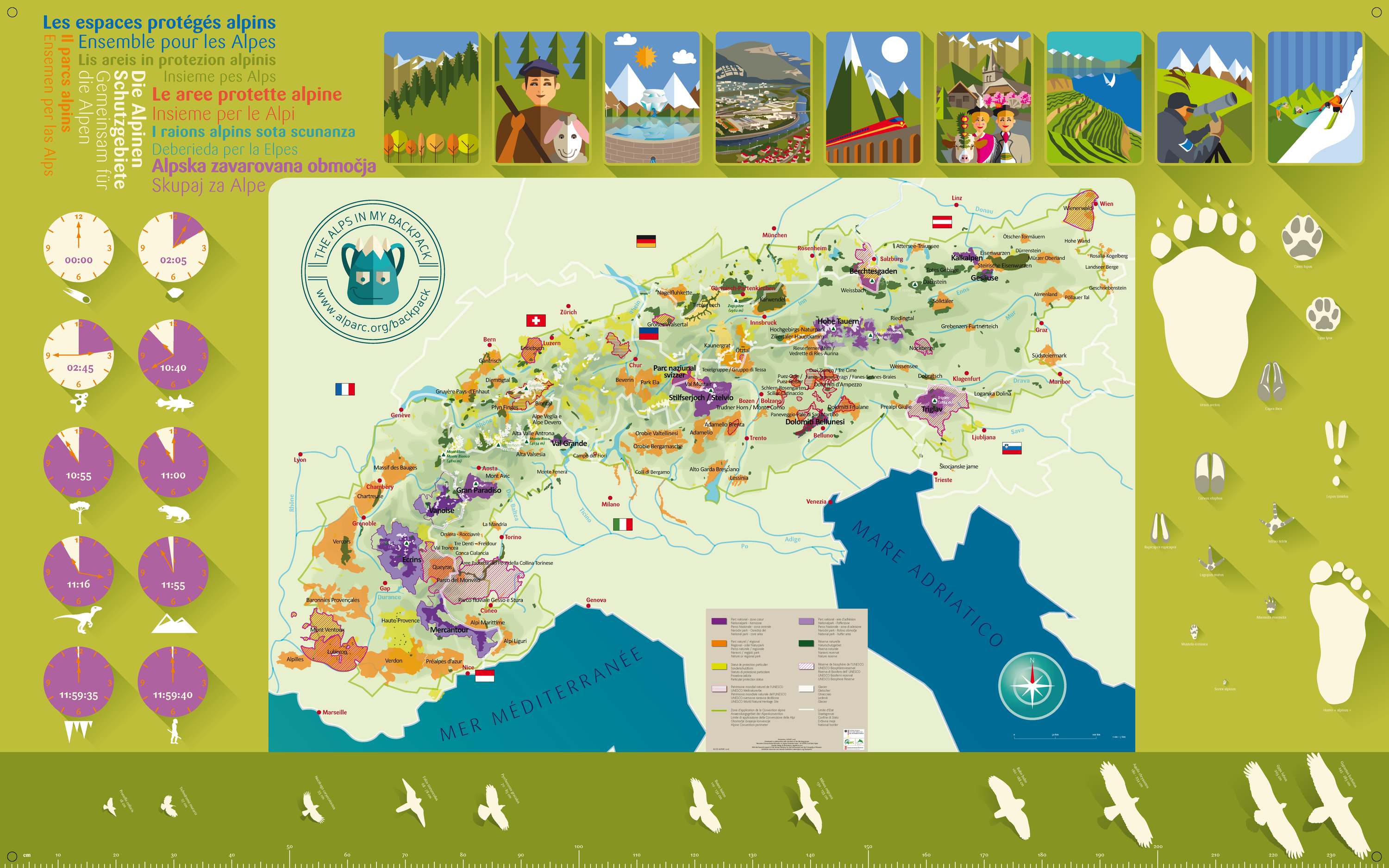 It was created in a collective way by members of the Working Group "Mountain Environmental Education in Alpine Protected Areas", who aspired to create a long-lasting, simple and practical tool which would allow educators and guides to approach common Alpine issues on a global dimension that goes beyond borders.

ADDITIONAL RESOURCES:
This tool contains a complete step-by-step fact sheet and various pedagogical resources which is available for download on this webpage.
The layout is also available for free for ALPARC members only as high definition file ready for print. Beside the fabric versions provided by ALPARC, this allow also the members to print "The Alps in my backpack" on further materials, as large paper posters, wooden boards or large panels for exhibits or visitor centres, etc...
Production: ALPARC 2016
Developed in collaboration with members of the Working groups "Mountain Environmental Education in Alpine Protected Areas" of ALPARC and Educ'Alpes
Graphic design & Illustrations: regisferre.com
With the financial support of the German Ministry for the Environment and the Principality of Monaco