In 2009 large parts of the Dolomites across 5 Provinces were recognised by UNESCO as a World Heritage Site.
Among the World Heritage objectives are sensitization and awareness building. With this in mind, the Nature Parks Office of the Autonomous Province of Bolzano has completed a new 250 m² permanent exhibition in the Nature Park House in Toblach.
The exhibition was created by the State Office for Nature Parks together with the State Office for Hochbau Ost. The exhibition concept was drawn up by a working group consisting of architect and project manager Bruno Rubner from Bruneck, geologist Emiliano Oddone from the firm Dolomiti Project from Feltre and members of staff from the Nature Parks Office, among whom Maria Margareth Pallhuber and Artur Kammerer.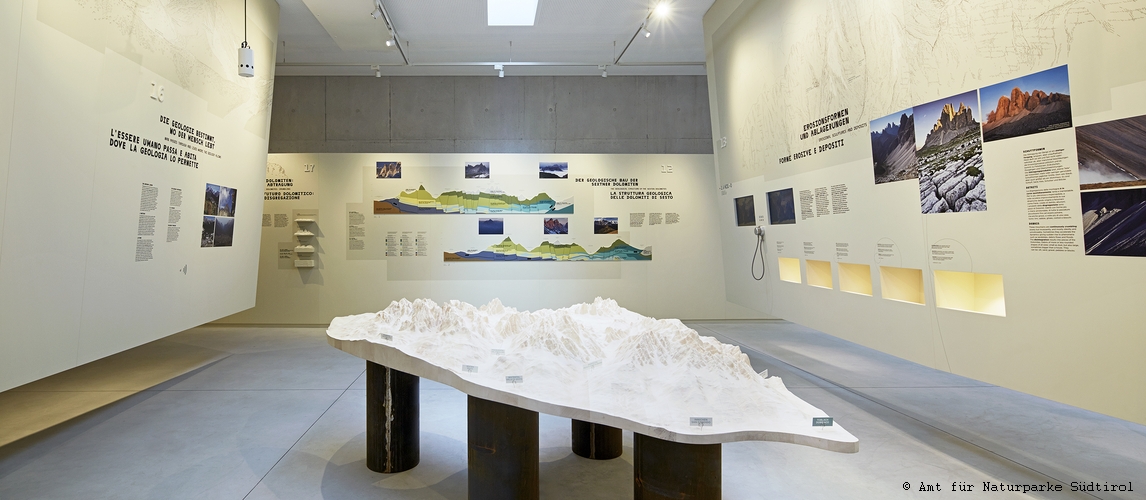 Opening Times:
From 2nd May to 31st October 2014 and from 30th December 2014 to 28th March 2015, Tuesdays to Saturdays from 9.30 am to 12.30 pm and from 2.30 pm to 6 pm.
In July and August also open all day Sundays and Thursdays from 6 pm to 10 pm.

Admission free

Address:
Naturparkhaus Drei Zinnen,
Kulturzentrum Grand Hotel Toblach
Dolomitenstr. 1 39034 Toblach
Tel. 0474 973017 Fax 0474 973974
E-Mail: info.dz@provinz.bz.it