Give Youth a Voice in the Alps! GaYA Encourages Youth Participation in Local - Urban and Rural - Politics

How can young people become more involved in local political processes? How can local politicians, their municipalities and the young themselves benefit from increased inclusion? These questions are central to the EU Interreg Alpine Space GaYA project (Governance and Youth in the Alps), and especially to its pilot stage that started at the beginning of September. As project partner and coordinator of the pilot phase in 2018, ALPARC also works closely with three Nature park regions in France.

The first stage of the project ended with the "Youth Participation in Political Decisions in Alpine Regions" workshop on 29 June in Bozen/Bolzano. The aim of this first stage was to analyse democratic and participatory processes across the Alps with particular focus on youth, and to highlight good practices. At the workshop, the partners presented these results to numerous representatives from municipalities and the political sphere from all over the Alpine space (report available, see below). The GaYA project teaser video-clip, which was designed by the ALPARC coordination unit with an external video maker, encourages youth participation in local politics by highlighting some of the existing examples (see below).

Over the next months, the pilot stage will start in the different GaYA pilot areas. Based on local needs and challenges, the aim is to test innovative approaches to mobilise and include youth in political processes in various fields: from youth-related topics such as education and culture to wider regional challenges such as biodiversity and climate change. Accompanied by the GaYA partnership and supported by external experts in the fields of citizen participation and democratic innovation, each pilot area will develop a participatory action plan and should implement at least one specific action in 2018. The experiences and lessons from this experimental approach will help the consortium to develop a toolkit and recommendations for policy-making in the field of youth participation in local politics.

GaYA runs from November 2016 to February 2019 and is co-financed by the European Regional Development Fund through the Interreg Alpine Space programme (Total budget: 1,092,748 € - 928,836€ ERDF grant). ALPARC is work package leader in the pilot stage (End 2017-2018).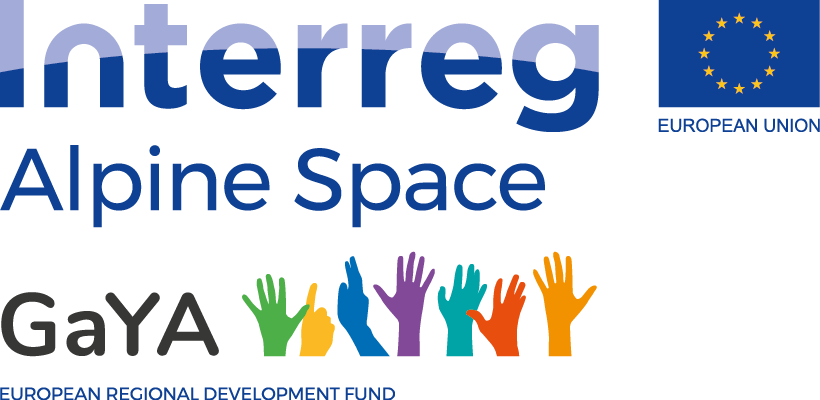 For further information
Have a look at the GaYA comparative report (all Alpine languages): EN DE FR IT SI
Watch the GaYA teaser video-clip available in (all Alpine languages): EN DE FR IT SI
To keep yourself updated, please visit: www.alpine-space.eu/projects/gaya