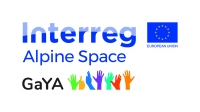 GaYA: Governance and Youth in the Alps / 2016-2019
Promoting Youth Participation for the Future of Alpine Communities
Young people (14-25 years old) tend to leave peripheral Alpine regions due to the lack of personal and professional fulfilment, especially in regards to education and job opportunities as well as social integration. The majority of decision and policy-makers lack awareness on the young people's needs and on tools to integrate them more into local communities.
In cooperation with eight partners, the Alpine Space project GaYA (Governance and youth in the Alps) aims at increasing the quality of democracy in the Alps while enhancing the capacity of decision and policy-makers to involve citizens, in particular young people as future leaders in local democratic systems. GaYA will test and provide innovative methods and tools for participation and decision-making processes in local communities and create a common framework. This will enable local communities to meet the challenges of social cohesion and regional development in the long run.
Under the GaYA project, the ALPARC operational unit is a work package leader in the pilot action stage (work package 3). The network is in charge of coordinating the implementation of participatory democracy processes in selected pilot sites via local action plans. Throughout the project, ALPARC will provide further support for data collection and analysis on democracy and participatory processes, facilitate knowledge exchanges and promote youth participation in democracy especially in French pilot sites.
GaYA runs from November 2016 to February 2019 and is co-financed by the European Regional Development Fund through the Interreg Alpine Space programme (Total budget: 1.092.748 € - 928.836€ ERDF grant).
Project aims:
Strengthen innovative and participatory democracy
Involve youth in decision-making processes
Increase national and transnational governance
Familiarize youth with complex policies
Main activities
Comparative Analysis: Democratic Innovation and Participation
Training and Workshops: policy-makers and Youth in Action: mutual learning
Local Action Plans of Participation
Youth Film Contest
Outputs
1. A comparative report
2. Participatory toolkit
3. Policy Recommendations
Project partners
• Agenzia di Sviluppo GAL Genovese – Developement Agency GAL Genovese
• CIPRA International Lab
• Jugendinformationszentrum Vorarlberg aha – Youth information centre Vorarlberg aha -Tipps & Infos
• EURAC – European Academy of Bolzano
• ALPARC – The Alpine Network of Protected Area
• Parc naturel régional du Massif des Bauges – Bauges Massif Regional Nature Park
• Muncipality of Idrija
• Alpine Town of the Year Association - Association Ville des Alpes de l'année
For further information, please visit the Alpine Space project overview.