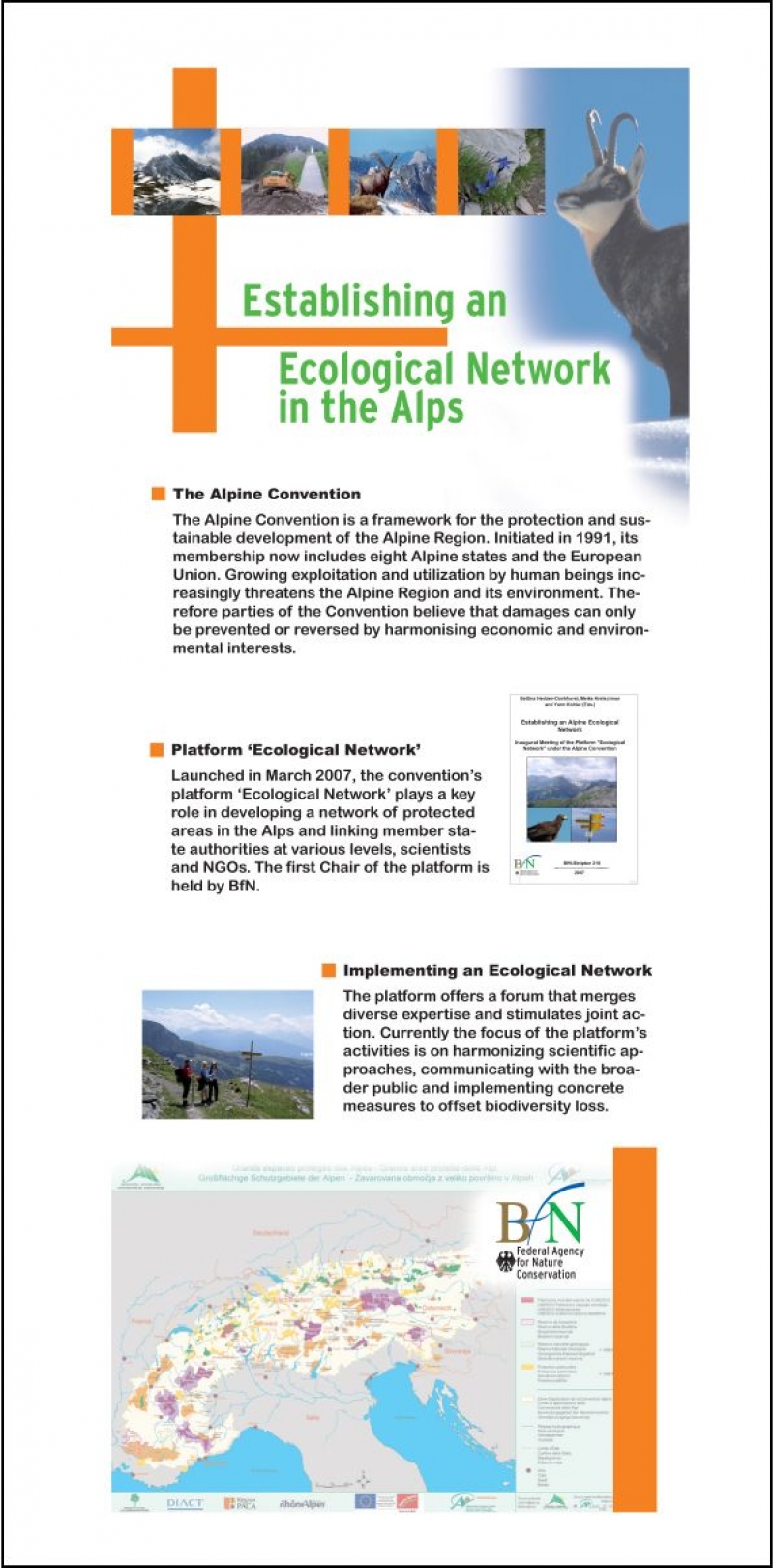 This poster about the activities of the Platform "Ecological networks" of the Alpine Convention was presented at the 9th Conference of parties of the CBD in Bonn/D in May 2008.
---
Resources linked to the article


Germany's Federal Agency for Nature Conservation (BfN) is presenting a brochure on the inaugural meeting of the Ecological Network Platform under the Alpine Convention. The meeting was held in Munich/D on 29 March 2007 under the heading "Establishing an Alpine Ecological Network". The proceedings, which have now been published, contain in particular reports from the individual Alpine states and presentations of selected project examples of ecological networking from Germany, France and Austria.
Available in English only.

Connecting natural spaces is of key importance for the nature protection goals of the Alpine Convention. Therefore the Alpine Convention established its "Ecological Network" Platform in 2007.
Its goal is to create an alpine cross-boundary spatial network of protected areas and connecting elements with the support of experts, policy makers and other relevant groups.Through the Platform, alpine countries will be able to share, compare, and revise crucial information on measures and methodologies. The Platform provides an important link between policy makers, the scientific community and practitioners. It also allows a more efficient cooperation with other sectors.
Experts will work within the Platform on three key areas of concern: scientific support for the establishment of an ecological network, its project-oriented implementation and the advancement of an alpine wide ecological network.
Its tasks:
Concrete tasks will be the enlargement and integration of crossboundary protected areas in the framework of existing activities, for example the development of the Natura2000 and Emerald networks; the elaboration of methodologies for the connection of habitats, and supporting the implementation of connection measures for Alpine species and habitats. Some regions have already started cross-boundary work. Platform activities will further support and develop the ongoing work.
Links
Alpine Ecological Network This website is dedicated on the one hand to the "Ecological Continuum Initiative" of the Consortium ALPARC/CIPRA/ISCAR and on the other hand to the platform "Ecological network" of the Alpine Convention. This website offers a list of publications and events on this topic as well as a search engine to find alpine experts in different thematic fields related to ecological networks.